Bronald (Br/ee and D/onald) is the pairing of an adoptive dad and his adoptive daughter, which is Bree and Donald Davenport. Bree seems to enjoy it when Donald isn't around, though she does often rely on him. Donald seems to embarrass Bree every time he tries to spend time with her, although usually unintentionally.
They are portrayed by Kelli Berglund and Hal Sparks. For a real life pairing of Kelli Berglund and Hal Sparks, see Helli.
Moments
Bree didn't like the picture frame of him and wanted to throw it out of the window.
Donald wondered why Bree was still up.
Bree showed Donald the selfie they took when Roman & Riker escaped.
Donald said that he was "leaving everything to Bree" (though he only said so because he was angry with Chase at that time), meaning that she would inherit Davenport Tower Penthouse and his bank account when he dies.
Also Called
Breenald (Bree and Do/nald)
Donee (Br/ee and Don/ald)
Breedon (Bree and Don/ald)
Gallery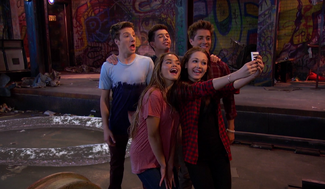 The image gallery for Bronald may be viewed here.
Userbox
Code:Bronald
| | | |
| --- | --- | --- |
| | | This user ships Bronald! |