Broliver (Br/ee and Oliver) is the romantic/friendship pairing between Bree Davenport and Oliver. It's shown that Skylar is jealous of them, which caused her to admit that she may like Oliver.
For the real life pairing of Kelli Berglund and Jake Short, see Jelli.
Other Names
Olivee (Oliv/er and Br/ee)
Brever (Bre/e and Oli/ver)
Olivree (Oliv/er and B/ree)
Breliver (Bre/e and O/liver)
Olree (Ol/liver and B/ree)
Moments
Bree said that she thought Oliver was cute twice.
Bree thought that Oliver had a trustworthy face.
Bree wanted Oliver to go with her.
Oliver thought that Bree was also cute.
Bree was going to miss Oliver.
Bree thought that Oliver was smart and kind.
Bree stopped liking Oliver after he reminded her of Chase.
Oliver gave Bree a flirty wink right before she left.
Bree flirted with Oliver many times throughout the episode.
When Oliver jumped off the balcony, Bree ran forward, screamed his name and was clearly terrified that he had nearly killed himself.
Bree was openly impressed by Oliver's power to fly.
Bree said that Oliver is an "odd little man".
When Skylar said she was sleeping, Oliver and Bree replied with "We know!" at the same time.
When Oliver told them he had super strength she scoffed and said "You?" while looking surprised.
Bree and Oliver shared their first hug.
Bree apologized to Oliver for blaming him for destroying her stuff.
When Oliver accidentally froze Bree's boots, she said it was fine since Skylar was going to ruin them anyway.
When Bree asked what Skylar and Chase would be doing while trapped, Oliver said Skylar would be beautiful, leading Bree to give Oliver a look, because Oliver implied that he doesn't find Bree beautiful.
Bree looked annoyed and somewhat offended when Oliver said the new baby will have serious problems being raised in the basement, as that was how she, Adam and Chase were raised.
Bree carries Oliver who carries Chase's capsule.
Oliver accidentally sent his song meant for Skylar to Bree.
Bree and Oliver both went to Caldera to save Skylar.
Bree and Oliver are trapped by Scarlett.
After Oliver admitted that he knew the Caldera Wi-Fi network password because he watched Skylar email home without knowing, Bree thanked him for being so creepy.
Shippers
Userboxes
Code: Broliver
| | | |
| --- | --- | --- |
| | | This user ships Broliver! |

Code: BroliverDate
| | | |
| --- | --- | --- |
| | | This user thinks that Bree and Oliver should date! |
Gallery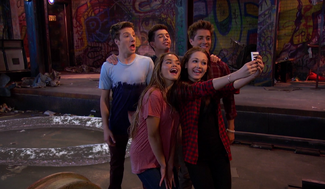 The image gallery for Broliver may be viewed here.