"
Bree, can you burn my retinas with your flashlight hands?
"
Braz is the friendship/romantic pairing between Bree Davenport and Kaz.
For the real life pairing of Bradley Steven Perry and Kelli Berglund, see Brelli.
Other Names
Kree (K/az + B/ree)
Kee (K/az + Br/ee)
Kazee (Kaz + Br/ee)
Brez (Bre/e + Ka/z)
Relationship
Bree and Kaz the typical 'love/hate' friendship/relationship. They bicker a lot, due to having totally opposite personalities. Kaz being a total goofball and Bree being calm and responsible. They have shown that they care about each other; for example in The Attack, when Bree yelled Kaz's name when he got hurt after he had stood in front of her after she had insulted Rodissius, in a way protecting her (not that she needs to be protected). Overall, they do seem to care about each other despite their differences.
Moments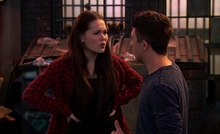 Bree went to retrieve Kaz in Centium City.
Kaz told Bree that she didn't have to stay, but then asked her to "stick around" when Roman & Riker activated their powers.
The subplot focuses on the both of them.
Kaz pet-sits a pig which Bree doesn't like.
Kaz and Bree were locked out by a pig.
Kaz and Bree rode an elevator together.
Bree implied she wanted to kick Kaz.
Kaz and Bree argued in the living room when Bree found Petey. Kaz seemed offended when Bree technically called him (Kaz) a pig.
Bree asked Kaz if he showered because she did not smell him come in.
Bree was annoyed by Kaz's Elite Force sound effect.
Bree was annoyed by Kaz's (and Oliver's) topple the tower game.
He said her idea was genius.
They were sat next to eachother at the start of the episode and both read the letter from Mr. Davenport.
Kaz was playing with the doll of Bree (and Chase) before they took them away from him.
Bree mocked Kaz about the dolls.
Kaz used the cyber cloak to look like Bree.
They hi-fived each other when their cyber-mask plan worked.
Bree and Kaz were having a conversation before Oliver walked in.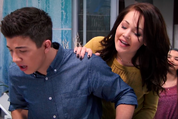 Bree called Kaz (and Oliver) disgusting.
They came up with the challenge and were the first to shake hands.
They were arguing at the start of the episode.
Kaz mentioned that Bree had used her vocal manipulation to sound like him when Davenport called so she didn't have to talk to him.
Bree used her invisibility app to mess with Kaz.
Bree put her hand on Kaz's shoulder.
Bree threw Kaz's phone and hi-tops off the terrace to mess with him.
Kaz told Oliver that Bree's a she-devil.
Bree threw Kaz's underwear out of the window, making them land on his head.
Bree used the cyber-cloak to trick Kaz into using his powers.
Bree threw Kaz's hotdogs off the terrace.
Bree held Kaz's arm back when he was going to attack AJ.
When Bree played Oliver's song about Skylar on her phone, Kaz asked if she could forward it to him.
Bree nods and appears to be attempting to forward the song to Kaz with her phone as they both laugh.
When Bree plays it again, her and Kaz dance to the song together.
Oliver leaped for his phone, so Bree handed it off to Kaz, who ran off with Oliver chasing him.
It is implied Bree actually forwarded Kaz the song, as he had it as his ringtone when Oliver was calling him.
Kaz says his sight's set on Bree for a prank.
Bree calls Kaz's popcorn prank "lame", and says she could see his shoe sticking out.
Kaz shape-shifts into Bree and says she smells like flowers.
Bree takes Kaz as a sheep away, not knowing it was him.
Bree had let Kaz lick her hand, not knowing it was him.
Bree asks if Kaz could be kept as a sheep for a bit longer so they can create a sweater out of him.
Kaz kept mocking Bree's flashlight hands.
Bree yelled Kaz's name when he got knocked down by the shapeshifters.
Bree helped Kaz up.
Kaz stepped in front of Bree after she insulted Rodissius and he walked closer to her, in a way protecting Bree.
Trivia
They're both of Irish descent.
Both often are shown together in photos.
They both possess heat related powers.
Shippers
Gallery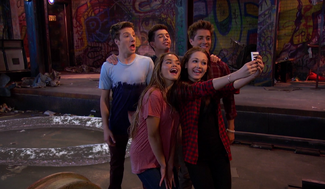 The image gallery for Braz may be viewed here.
Userbox
| | |
| --- | --- |
| | This user ships Braz! |